WHAT WE DO

We provide a wide variety of highest quality reclaimed materials from multiple sources around the United States. We reclaim barns from Colorado, the Midwest, New England and the southeastern states. Our reclaimed commercial materials come from the great industrial centers of our nation and reflect the strong character and resiliency of the men and women who forged our prosperity. We're always on the hunt for structures that provide unique materials for our customers, choosing them with an eye for quality, durability, value and distinctive look. Our goal is always to offer our customers the best reclaimed materials at a competitive price.
We enjoy working with a variety of people to make their reclaimed material project come to life. We have relationships with contractors, interior designers, architects, installers, and homeowners. We can work up designs in house, do take-offs from blueprints, or source specific materials for big jobs.
HOW WE DO IT
Our business grew out of our appreciation for the historical significance of reclaimed materials and our commitment to sustainable building practices. We only work with select suppliers who have a respect for the material and who we trust to meet our high standards of quality and integrity. In-house milling allows us seamless control over projects from start to finish, guaranteeing an exceptional level of quality, beauty and authenticity. Our installation team has a diverse skill set, including classic timber frame techniques, interior craftsmanship and custom metalworking services. We trust all of our partners to handle and process our materials with the utmost care, to preserve their unique character and historic value.
WHO WE ARE

Together Jack and Megan bring years of practical building experience, a keen creative eye, and a love of repurposed materials to designs that are both forward-thinking and rooted in America's proud past. As the founder of American Building Company, Jack built fine custom homes in Summit County for over a decade. He has 8 years experience working with custom designs, furniture and reclaimed materials. As a general contractor, he has cultivated a diverse network of trusted subcontractors. Jack's appreciation for the historical significance of reclaimed wood and salvaged building materials stems from his background working alongside his father John Norton, an antique dealer specializing in industrial décor. Jack's love of the outdoors and respect for the natural world underpins his commitment to sustainable building practices.
Megan is an artist and designer with special expertise in faux painting and finishing techniques. An active member of the community, she volunteers with non-profit organizations and works to promote the environmental stewardship that is an important benefit of using reclaimed materials.
Our family has lived in the mountains of Summit County for 20 years. We have a deep respect for our region and all it has to offer, and are invested in building a thriving, healthy, sustainable community for ourselves and our children.
We've built a reputation for being friendly, professional and dependable. We like to see happy customers!
Grand Gazette Article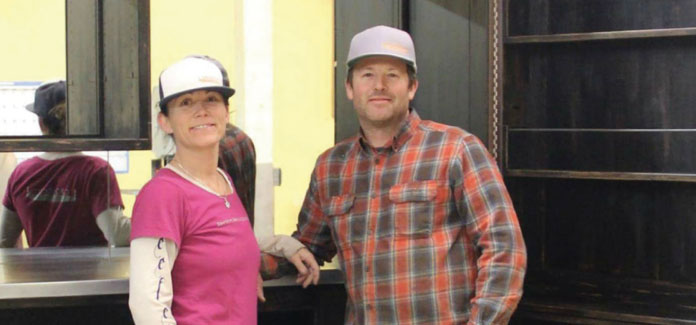 Crosscut Reclaimed Refreshes Community With Reused Materials
Crosscut Reclaimed combines the Norton family's history with construction and love of preservation into a thriving local business. As the child of an antique dealer, Jack Norton admits, "I grew up never being able to drive past a flea market or a yard sale." His childhood impressed a .......